IPSHA History
IPSHA evolved from small gatherings of Headmasters which met in an informal manner through the fledgling New South Wales Branch, which called itself the Junior Schools' Conference, to an association that today has over 380 Members across the six states of Australia. As well there are over 20 Overseas Members and 70 Associate, Honorary State Life and Honorary Federal Life Members. Members' schools are now responsible for educating around 125,000 children.
In September 1952, due to the work of people such as E. C. Rowland, David Bradshaw, Edward Dixon and Bob Gilchrist, a conference was held at Cranbrook, Sydney, where a constitution was agreed upon for the establishment of the Junior Schools' Conference of Australia. This was the beginning of the Association.
Biennial Conference and Refresher Schools were held on a rotating basis of Sydney, Melbourne, and other cities until 1978 when the Conference shifted to Canberra. Having broken the sequence it was thereupon agreed that the Conference should henceforth be hosted on a regular state rota.
IPSHA grew and matured through the 1960s and 1970s, increasing in membership and the array of Branch activities, gradually providing more ways for members, their schools and staffs to co-operate and share ideas.
At the biennial Conference in Perth in 1984 the Constitution was amended and the Heads of Independent Girls' Schools became eligible for membership of IPSHA, which at the time was then known as the Junior School Heads' Association of Australia (JSHAA). Along with this name change came eligibility for membership for Heads of co-educational schools, thus providing a considerable boost to membership. Another historic event at this Conference was the relationship between AHISA and JSHAA which was formally acknowledged as not being one of patronage of the former to the latter, but of independence and complete autonomy for the JSHAA.
It could be said that it was at this point that the Association came of age and consequently there emerged a radical change of thinking by many members about the future and purpose of IPSHA. As an autonomous, Australia-wide body of significant proportions it sought to become an important voice on issues related to primary education throughout the nation. Much has been achieved through co-operation and affiliation with other bodies such as AGPPA (Australian Government Primary Principals' Association) and ACPPA (Australian Catholic Primary Principals' Association) – where IPSHA, numerically the smallest of the three partners, receives equal rights.
The name Independent Primary School Heads of Australia (IPSHA) was endorsed and officially embraced at the 2008 Conference held in South Australia. The name IPSHA brings our Association into line with other peak primary school bodies and more clearly reflects the nature of membership, together with the Goals and Objectives of the Association.
IPSHA members are actively involved in state and national education organisations and have strong levels of representation on bodies such as the National Executive Council of the Australian Primary Principals' Association (APPA), the Council of Principals Australia (previously known as APAPDC), the Australian College of Educators (ACE), the Australian Council for Educational Leadership (ACEL), and others. In this way they meet one of their goals which is to have influence on the direction and development of primary education in Australia.
IPSHA continues to expand, develop and meet with success as it provides even greater avenues for close and meaningful contact between its members.
IPSHA – 60 years of memories, 1952-2012
IPSHA Wells Oration
The Wells Oration is presented at the biennial conference of the Independent Primary School Heads of Australia.
In 1968, at the Conference and Refresher School held at Newington College, a landmark occurred in the development of the Association – the introduction of the Wells Oration.
On the morning of 7 February 1967, Edward Adrian Wells (known affectionately as Eddie to his colleagues) took his place on the platform of the assembly hall at Wesley College, to go through the routine of opening a new school year – the thirtieth time he had performed that task. Whilst allocating the boys to their classes he was taken ill and in a short time was dead.
Eddie Wells began his teaching career at Wesley College Junior School in Melbourne in 1920, and after being a member of the staff under two other Heads, spent thirty years as Headmaster of the Junior School. He had a distinguished career academically and professionally; and in games – especially rowing, football and athletics – during his active years. As a foundation member of the Junior School Heads' Association, as it was known then, he soon became well known to all his colleagues in Junior Schools across the country – for his charm, wisdom and infectious humour. To quote Dr Coates, who was Headmaster of Wesley at the time of Eddie's sudden death: "he was a man of large frame and large character. A gifted and highly successful teacher, his understanding of junior boys was nothing short of phenomenal. Gracious and dignified of speech, he always had boys 'speaking their best' to him; yet his playful good humour, and, on occasion his rollicking sense of fun were always available to keep life from becoming sombre". He was married with two sons. Association members during Eddie Wells' years remember him as a personality and a professional schoolmaster of impeccable integrity. It was because of these memories of him and the values that he stood for that his Association colleagues in 1967 considered some kind of memorial to him. Finally, after a unanimous vote of the Council and with the consent of Eddie's widow, it was decided to establish this memorial in the form of an inspirational address to be delivered at future biennial Conferences, to be known as the Wells Oration.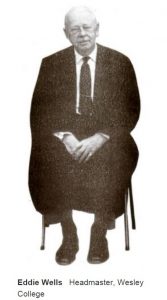 Record of Speakers
1968
Dr Thomas Coates: Headmaster of Wesley College

'Some thoughts on Moral Education'

1970
Professor Wilfred Frederick: Former Headmaster of Wesley College

'Teachers and Technology'

1972
Mr Kim Beazley: Member House of Representatives

'Education and Changing Social Philosophies and Values'

1974
Professor Leonie Kramer: Professor of Australian Literature at Sydney University

'A Critique of Progressive Education'

1976
Dr Ian Hansen

'Foundations and Leadership – a Moral View'

1978
Senator John Carrick: Minister of Education

'Quo Vadis, Headmaster?'

1980
Sir James Ramsay: Governor of Queensland

'Challenge and Change in the 1980s'

1982
Dr Dean Hutton: Science Educator and Futurist

'New Communication Technologies – a Challenge for Education'

1984
Professor Barry McCaw: Professor of Education, Murdoch University

'The Role of the Independent School'

1986
Mr Garth Boomer: Chairman of the Commonwealth Schools Commission

'Creativity in Education: Making Things'

1988
Br Kelvin Canavan: Executive Director of Schools, Sydney

'Are Independent Schools losing their Independence?'

1990
Dr Peter Ellyard: Director of the Commission for the Future

'Education for the 21st Century'

1992
Mrs Sallyanne Atkinson: Former Lord Mayor of Brisbane

'Dealing with People'

1994
Mr Kevin Richardson: Director of Quality Assurance, NSW Department of School Education

'Educating for a Technological Future'

1996
Professor Donald Watts: Dean of Research and Postgraduate Studies, University of Notre Dame

'Choice and Independence: Elements in the Debate on Social Justice for all Australians'

1998
Mrs Lorraine Elliot: Parliamentary Secretary to the Premier of Victoria for the Arts, State Member for Mooroolbark

'The Fire in the Mind'

2000
Dr Keith Suter: Strategic Planner, Futurist and Social Commentator

'The Past: Foundation for the Future'

2002
Dr Neville Highett: Principal of Immanuel College, SA

'The Virtual School of the 21st Century'

2004
Dr Michael Carr–Gregg: Adolescent Psychologist

'Australia's Young People and their Future'

2006
Dr Fiona Wood AM: Australian of the Year

'Reflections on a Life'

2008
Bishop Greg O'Kelly: Bishop of the Archdiocese of Adelaide, SA

'Daring Leadership'

2010
Mr Carrillo Gantner AO: President of the Melbourne International Arts Festival Board

'A Passion for the Arts and a Passion for Asia'

2012
The Right Reverend Kay Goldsworthy: Bishop of the Anglican Diocese of Perth

'Embracing Change: Honouring Tradition'

2014
Hetty Johnston AM, JP: Founder and CEO – Bravehearts Inc

'Preventing the Preventable' – protecting children against sexual assault

2016
Mr Billy Graham: Motivational Speaker and Fitness Advisor (NZ)

"Leaders should give every child a chance"

2018
Dr Murray J Evans: Education Consultant and former principal of Somerville House

"Towards 2040: What's waiting around the corner in education?"

2022
Mrs Jessica Stenson (née Trengove): an Australian long-distance runner who competes in distances from 5000 metres up to the marathon. She represented Australia at the 2012 London Olympics and 2016 Rio de Janeiro Olympics in the marathon.
IPSHA Prayer
In 1998, the Federal Board, under the Chairmanship of Rosalie Ramsay, asked the Reverend Geoffrey Grimes, Headmaster of the Preparatory School of The King's School Parramatta, to write a special JSHAA Prayer to be used at Association functions. This prayer was first used at the opening Ecumenical Service at St. Patrick's Cathedral in Melbourne that year. Now known as the IPSHA Prayer, the text is as follows:
God of all wisdom
We acknowledge Your presence with us today.
We seek the inspiration of Your Spirit
and the light of Your understanding to guide us.
We thank you for those who have contributed
and will contribute to the fellowship
and the vision of this Association,
in times past, at the present and in the future.
We bring before You the deliberations of our meeting,
that we might be attentive to Your leading
and courageous in our following.
Young minds are so innocent —
Give us the wisdom to meet their needs.
Young hearts are so vulnerable —
Give us the love to embrace their uncertainties.
Young lives are so precious —
Give us the patience to treasure.
Young spirits are so fragile —
Give us the joy of seeing them grow.
May we, and all who serve you in the calling education,
bring to this great challenge the resources that only
You can provide.
We ask this in Your name. Amen.